Colina Park Golf Course
Book your tee time TODAY! Call 619-255-4425 to avoid booking fees!
Know before you go — Colina Park Golf Course offers both ball and disc golf.
Disc golf hours are Monday-Thursday, 7:20AM-12:00PM. All tee times must be booked ahead of time by calling the Golf Shop.
Tee times up to 7 days in advance: Call ahead to avoid fees or book online.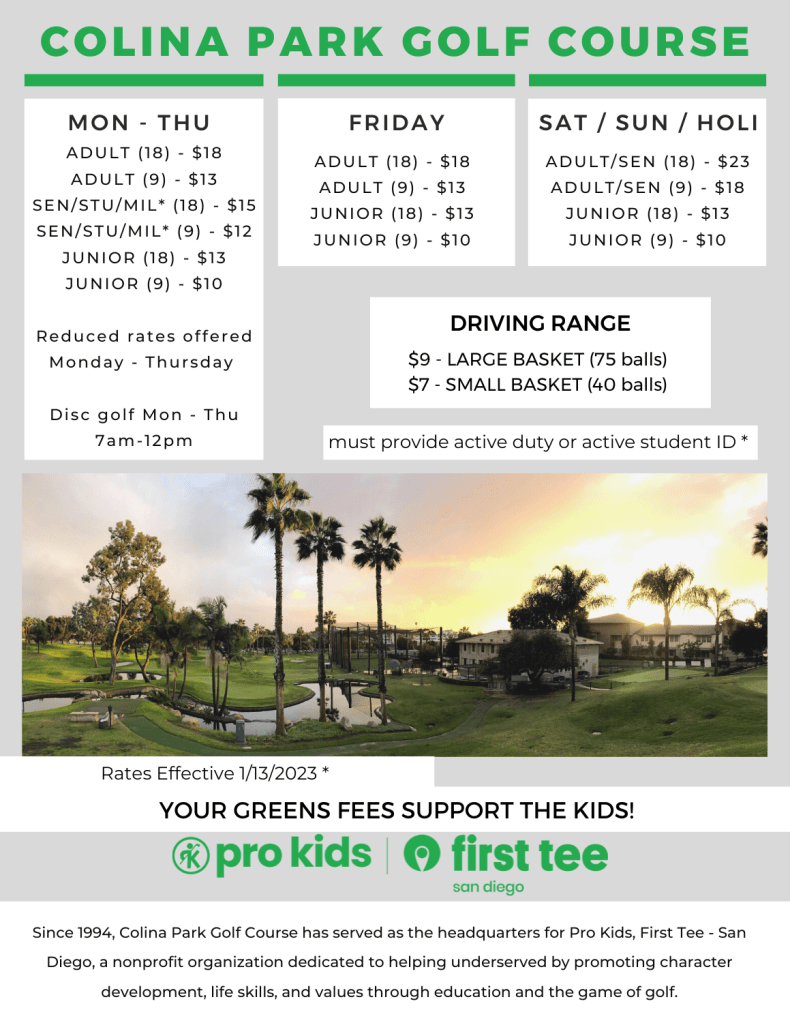 ADDITIONAL INFORMATION:
Bonus Value Card (BVC): Pay $80, get $100 in dollar value credit (a 20% bonus).

Use "debit" style to pay for "rack rate" greens fees. You can use BVC to pay for any golf round for yourself or other people. When value gets below what you can use to purchase a round, you must purchase a full "re-charge" of the card ($80) which will be added to any value you already have on the card. Values tracked in computer by customer name. Credit value applies to greens fees only, all other fees payable at time of purchase. BVC are not combinable with coupons or promotions. Non-refundable. No cash value.

10-Play Cards are no longer available:

Existing 10-play cards will be used same as they were before until they are debited down to zero

.

Coupons:

Read disclaimers on all. If it was an older coupon that says "any" 18-hole greens fee, it will be honored. Coupons going forward will specify if there are types of rounds where coupons do not apply: Twilight, Replay, Promotional rounds and not combinable with Bonus Value Cards.

Green Fees: Greens fees listed are for walking. Riding carts ($10 pp) are available for fees listed (same fee for 9 or 18 holes). Limited carts are available on a first-come basis. Call Pro Shop to check availability.
Group Play and/or Special Events: For groups of 12 or more players, tournaments, corporate events, or to rent out the entire course, please contact Curtis Burkhead, Golf Shop Manager.
Golf Course Hours: 7:00AM-7:00PM
As home to Pro Kids, First Tee – San Diego, there are specific days and times that our driving range, practice area, and select tee times are unavailable to the public. These times are dedicated to Pro Kids members for golf class instruction.
Last tee time is at 6:00PM for 9 holes only.
Facility gates are locked promptly at sunset Monday-Friday. Weekends and holidays vary.
The driving range is open from 7:20AM-6:00PM. Limited access to range Monday-Saturday due to golf classes (closed to public 2:30-6:00PM Tuesday-Friday) 
Tee times can be made up to 7 days in advance, call the golf shop to schedule tee times: 619-255-4425
Due to Pro Kids activities, there may be times when an 18-hole round will be played over the same nine holes twice. Please inquire in golf shop at 619-255-4425.
Golf course hours may be adjusted on holidays or for special events. Facility is closed on Thanksgiving and Christmas. 
Rent golf clubs and carts in the golf shop:
Golf clubs:
Adult set (wedges and putter) – $15
Child set – free rentals
Prices are the same for 9 or 18 holes
Golf bag is not included
Clubs are available in left-handed, right-handed and junior models
Golf carts:
$20 (2 riders per golf cart).
Limited to customers with disabilities and seniors at a first-come, first-served basis.